Posts for: October, 2011
By Family Dental Center
October 09, 2011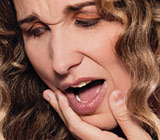 When it comes to tooth pain, it is important to identify two things: what is causing your pain and what can be done about it. In some instances you can handle it yourself at home; however, for others, you should contact us so that we can diagnose and treat the problem. See how much you really know about tooth pain by taking our true/false test.
It is perfectly normal to experience tooth sensitivity to hot and cold foods for a few days after dental treatment.
True or False
If you experience sharp pain when biting down on foods, you should hold off on contacting us to see if the pain gets better on it own.
True or False
Tooth pain is caused by a reaction of nerves inside the tooth's enamel with the severity of the pain dependant upon the type and degree of the stimulus.
True or False
Generally speaking, pain is a protective response that ranges from minor to severe as a way of informing the body that something is wrong.
True or False
If a tooth's root surface is sensitive, you should use a firm toothbrush to ensure that you are keeping the area clean by thoroughly removing dental bacterial plaque.
True or False
Lingering pain after eating hot or cold foods and liquids probably means that the pulp within your tooth is probably damaged or inflamed as a result of deep tooth decay or injury from a physical trauma.
True or False
Regarding tooth sensitivity, you should only contact us if the pain persists for several months because this is not likely to be anything serious.
True or False
If a tooth's pulp becomes damaged or dies, you will need a root canal.
True or False
With tooth pain, knowing how long to wait before you contact us can save physical, financial and emotional stress.
True or False
People often confuse tooth and sinus pain because they both can feel the same — a dull ache with pressure in the upper teeth and sinus area on one or both sides of the face.
True or False
Answers: 1) True. 2) False. You should contact us asap for an examination before the pain worsens. 3) False. The nerves are located in the tooth's pulp chamber. 4) True. 5) False. Use a soft bristled toothbrush not a firm one. 6) True. 7) False. While tooth sensitivity generally does not signal a serious issue, if it persist for days or worsens, contact us. 8) True. 9) False. Early interception is best. 10) True.
To learn more, continue reading the Dear Doctor magazine article "Tooth Pain? Don't Wait!" Or contact us today to schedule an appointment to discuss your questions.
By Family Dental Center
October 02, 2011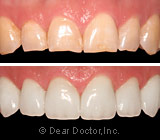 A veneer is a thin layer of dental ceramic tooth-colored restorative material, usually made of porcelain, which replaces some of the tooth's enamel and is physically bonded to it.
You might want to consider porcelain veneers:
If your teeth are severely discolored. (For best results we may recommend that your teeth be whitened before veneering them.)
If your teeth cannot be evenly whitened or matched by other means.
If your teeth are misshapen or worn, you can change their size or shape for optimum aesthetic appeal.
If you don't want to have your teeth prepared (drilled), prepless veneers may be an option to change your smile.
If you want as little natural tooth structure prepared as possible to improve your smile.
If you would like something temporary first to "test-drive" your new smile, then:
"Provisional veneers" allow you to try out your new smile and give us feedback before the final permanent veneers are placed.
If you want to improve your smile for just one tooth or even multiple teeth.
If you want long-lasting restorations — veneers can last from seven to twenty years or more.
And the top reason is:
Porcelain laminate veneers are among the most aesthetic ways to create a more beautiful, yet normal, looking smile.
Tell us what you want to change about your current smile, and we can tell you whether veneers are right for you. Contact us today to schedule an appointment or to discuss your questions about cosmetic dentistry. You can learn more by reading about porcelain veneers in Dear Doctor magazine.