Posts for: December, 2013
By Family Dental Center
December 16, 2013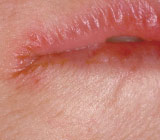 You may be suffering from an uncomfortable cracking of the skin at the corners of the mouth. This condition is known as perleche (or angular cheilitis). From the French word "lecher" ("to lick"), it derives its name from the tendency of sufferers to lick the affected areas.
There are a number of causes for perleche. It's found most often in children who drool during sleep, or in teenagers or young adults wearing braces. Older adults develop perleche due to the wrinkling of skin caused by aging; and anyone can develop the condition from environmental factors like cold, dry weather. Conditions from within the mouth may also be a cause: inadequate saliva flow; inflammation caused by dentures; or tooth loss that diminishes facial support and puts pressure on the skin at the corners of the mouth. Systemic conditions such as anemia, diabetes or cancer can dry out oral tissues and membranes, which may lead to perleche.
Our first priority is to treat any underlying infection. Cracked mouth corners are easily infected, most commonly from yeast called candida albicans. The infection may range from minor discomfort localized in the affected area to painful infections that involve the entire mouth and possibly the throat. Any of these can be treated with an oral or topical anti-fungal medication, including anti-fungal ointments applied directly to the corners of the mouth until the infection clears up. Chlorhexidine mouth rinses can also be used to treat minor yeast infections.
As for healing the cracked skin, a steroid ointment for control of inflammation combined with a zinc oxide paste or ointment will serve as an antifungal barrier while the tissues heal. If the condition is related to missing teeth or dentures, we can take steps to replace those teeth or ensure the dentures are fitting properly. Good oral health also goes a long way in preventing further reoccurrence of perleche, as well as dermatological techniques to remove deep wrinkles due to aging.
If you would like more information on perleche and other mouth sore issues, please contact us or schedule an appointment for a consultation. You can also learn more about this topic by reading the Dear Doctor magazine article "Cracked Corners of the Mouth."
By Family Dental Center
December 06, 2013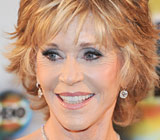 Not long ago, Jane Fonda gave a British interviewer a clue as to how she manages to look so young at her advanced age. During the 2011 Cannes Film Festival, the septuagenarian actress and fitness guru said to a journalist from the London-based Daily Mail, "See these teeth? They cost $55,000. It was teeth or a new car — and I opted for the teeth."
We think she made the right choice — though she might have overpaid just a tad. Most people don't have that kind of cash to spend on either a car or new teeth. But luckily, you can get either for a lot less — particularly the teeth!
The truth is, at a reasonable cost, cosmetic dentistry really can make you look a lot younger while giving your self-esteem a tremendous boost. It's an investment in both your emotional and oral health as we will never implement a smile makeover without first making sure we've addressed any underlying dental disease. Best of all, it doesn't have to cost anywhere near what you'd pay for the latest-model Jaguar, the price tag of Fonda's smile notwithstanding. Here is a list of the more common cosmetic dental techniques used to enhance a person's smile:
Whitening — a peroxide-based bleach is applied directly to the teeth to remove minor staining and discoloration.
Bonding — an acrylic material is applied to a tooth, colored and shaped to match the person's other teeth. Primarily used for chipped, broken or decayed teeth.
Enamel Shaping — the removal of very tiny amounts of enamel, the tooth's outer layer, for a more pleasing tooth shape.
Veneers — a thin shell of custom-designed tooth-colored material, usually porcelain, affixed to the front surface of the teeth.
Crowns and Bridgework — a technique that covers heavily damaged teeth or replaces missing teeth by capping them, or using capped teeth to support one or more false teeth.
Dental Implants — a small titanium post is surgically implanted in the jawbone to replace the root-part of a missing tooth. A lifelike crown is attached to the implant above the gum line and is the only part of the whole tooth restoration that is visible in the mouth.
Gum Contouring — a minor surgical procedure altering the position of the gum tissue to improve the look and regularity of the gum line around the teeth.
If you'd like more information on cosmetic dentistry, please contact us or schedule an appointment. To learn more, please read the Dear Doctor magazine articles, "Beautiful Smiles by Design" and "The impact of a Smile Makeover."