Posts for: March, 2014
By Family Dental Center
March 18, 2014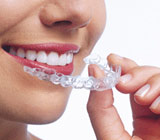 If you are considering having your teeth straightened, for cosmetic or other reasons, the idea of using clear aligners rather than traditional braces may be appealing.
Here are the answers to some frequently asked questions about clear aligners.
What are clear aligners?
Clear aligners are clear removable custom fitted "trays" that gradually straighten teeth. Used sequentially, each individual tray is slightly different from the one before and is worn every day for two weeks before going on to the next one in the series. This slowly moves your teeth to a new position.
How are they made?
The trays are computer-generated, based on impressions and models of your mouth combined with the knowledge of growth, development of teeth and jaws, and most importantly how and why teeth move.
How long does this treatment take?
By wearing clear aligners for at least 20 hours per day for two weeks before changing to the next tray in the sequence, treatment time can range from six months to two years depending on your individual situation.
Can children wear clear aligners?
Clear aligners are generally used for adults who have all their teeth and when jaw growth is complete, but can be used for younger people depending upon the extent and severity of their situation.
What situations can clear aligners be used for?
Clear aligners can realign or straighten teeth, close mild spaces, treat elongated teeth and tip teeth into better position. They are usually recommended for correcting mild to moderate crowding of teeth, particularly if your back teeth already fit together properly.
When are clear aligners probably not the right choice?
If you have a bad bite (your back teeth do not fit together well), or if you have a severe overbite or underbite, traditional braces are probably a better choice for treatment. If your teeth are severely crowded, or if your situation is complex, clear aligners will probably not be the right treatment choice.
How do you decide whether clear aligners are right for you?
An orthodontic assessment of your individual situation must be performed by our office.
What is considered in the assessment?
The assessment includes specialized x-rays of your teeth, jaws and skull, along with photos, impressions, and models of your bite.
For more information about clear aligners vs. traditional braces, make an appointment with us for a consultation and an examination of your own situation. You can learn more by reading the Dear Doctor magazine article "Clear Orthodontic Aligners: An Alternative for Adult Orthodontics."
By Family Dental Center
March 03, 2014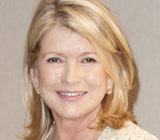 Here's a quick quiz: What recent activity did domestic guru Martha Stewart share via social media for the first time? Need a hint? Was she following the lead of other celebrities like rapper 50 Cent (AKA Curtis James Jackson III), actress Demi Moore and country music star LeAnn Rimes?
Give up? The answer is… she live-tweeted her visit to the dentist! Not only that, she also posted pictures of her mouth as she was undergoing an in-office whitening procedure.
Now, we understand that some might feel they don't need to see close-ups of Stewart's teeth under treatment. But we have to admire her for not trying to hide the fact that she's had the same procedure that has benefited so many people, whether famous or not. Plus, her pictures actually provide a good illustration of how the treatment works.
In-office whitening treatments are the fastest way to brighten up your smile. In a single one-hour visit, your teeth can be lightened by three to eight shades — and that's a big difference! How can we achieve such dramatic results? When you're under our direct supervision in an office setting, we can use the most concentrated bleach solutions safely and effectively. You can get similar results with custom-made trays and take-home lightening solutions we can prepare for you, but then the process will take longer.
If you look closely at her photos, you'll see that Stewart's lips, gums, and face are covered up to prevent any contact with the bleaching solution. She's also wearing protective eyewear, which not only keeps chemicals away, but also guards her eyes against strong lights, which are sometimes used in conjunction with bleach. When we perform in-office whitening procedures, we use safeguards like these for all of our patients — not just celebrities!
We also perform a complete oral examination before starting any whitening procedure, to be sure you don't have any underlying conditions that need to be treated before teeth whitening begins. That's something you just can't get from an over-the counter whitening product.
Teeth whitening is an effective and affordable way to give your smile a quick boost. But whether you decide to live-tweet your procedure — or keep your fans guessing about why your smile looks so good all of a sudden — that's up to you.
If you would like more information about the teeth whitening, please contact us or schedule an appointment for a consultation. You can learn more in the Dear Doctor magazine articles "Teeth Whitening" and "Important Teeth Whitening Questions Answered."