Posts for: April, 2014
By Family Dental Center
April 17, 2014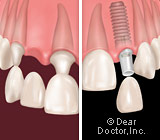 When a natural tooth can't be preserved, it is important to have it replaced as soon as possible. Presently, there are two excellent tooth-replacement systems in wide use: traditional bridgework and high-tech dental implants. What's the difference between the two methods?
Essentially, it comes down to how the replacement tooth is secured in the mouth. In the dental implant system, a natural looking prosthetic tooth is solidly anchored in place by a screw-like titanium implant. This is inserted directly into the bone of the jaw in a minor surgical procedure, and over a short period of time (usually 6 – 12 weeks) its titanium metal structure will actually become fused with the living bone.
With bridgework, however, the support for the prosthetic tooth (or teeth) comes from the healthy teeth adjacent to it. These teeth must be prepared (shaped) by carefully removing some of the outer tooth material (enamel and some dentin), which enables them to be fitted with coverings called crowns or caps. Crowns are often used on their own, to restore teeth that are missing too much of their structure to be treated effectively with standard fillings. But the bridgework system goes one step further.
Instead of making individual crowns for each tooth, a dental lab will fabricate a bridge — a single unit consisting of crowns for the prepared teeth, plus complete prosthetics to replace the missing tooth (or teeth). A three-unit bridge, for example, consists of one complete prosthetic tooth to replace the one that's missing, plus two crowns for the adjacent "abutment" teeth. It's possible to have larger bridges as well: For example, a six-unit bridge might consist of two complete prosthetic teeth in the center, with two crowns for abutment teeth on each end, all linked together in one piece.
While bridgework has been used effectively for decades, it is now being gradually supplanted by dental implants. Implants don't require the removal of healthy tooth material from abutment teeth, and they don't place extra stress on those teeth; plus, they generally last much longer than natural tooth bridges. However, the dental bridge remains a viable alternative for tooth replacement in many circumstances.
If you would like more information about dental bridgework, please call our office to arrange a consultation. You can learn more in the Dear Doctor magazine article "Crowns & Bridgework."
By Family Dental Center
April 02, 2014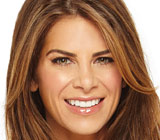 As America's toughest trainer on the hit television program The Biggest Loser, Jillian Michaels helped people learn that they hold the power to change. And if anyone knows about the power of changing oneself, it is Jillian Michaels. In her recent interview with Dear Doctor magazine, Jillian discusses her childhood, the trauma of being overweight as a teenager (5' 2" and 175 pounds), and the day her life forever changed when she started martial arts training at a gym. "I started training when I was 17 and always loved it but never thought it would end up being my career," she said.
Jillian also reveals that when she was a child, she broke her two front teeth and had them repaired with crowns. She added, "Now, I generally wear a mouthguard if I am doing anything where my teeth have any chance of being knocked out."
When it comes to replacing teeth that are broken or damaged from trauma, or teeth that are damaged because of dental decay, grinding habits, or acid erosion, crowns may be your best option. And because the tooth enamel is damaged, a bit more of it must be removed before we can place a crown. Generally speaking, we must remove about 2 millimeters of tooth structure to place a crown. Once the crown is placed, the tooth will always require a crown, as this is an irreversible procedure. However, the good news is that a crown not only mimics the look and feel of a natural tooth, but it is also the optimal long-term solution. On average, a crown last between 5 and 15 years and requires no special maintenance. In fact, you should treat your crown as you do your natural teeth, with a daily cleaning regimen of brushing and flossing and routine dental examinations and cleanings.
To learn more about crowns or other cosmetic procedures, contact us today to schedule an appointment so that we can conduct a thorough examination, discuss any questions you have as well as what treatment options will be best for you. Or to learn more about crowns now, you can continue reading the Dear Doctor magazine article "Porcelain Crowns & Veneers." And to read the entire interview with Jillian Michaels, please see the article "Jillian Michaels."